The best Gay Porn Parody ever made of a blockbuster Hollywood Movie, 21 Hump Street, is now available online for members of JetSetMen.com!
Starring: Riley Price, Bryce Star, Jason Goodman, Robert Axel, Doug Acre, Steve Stiffer, Kris Jamieson, Ron Jeremy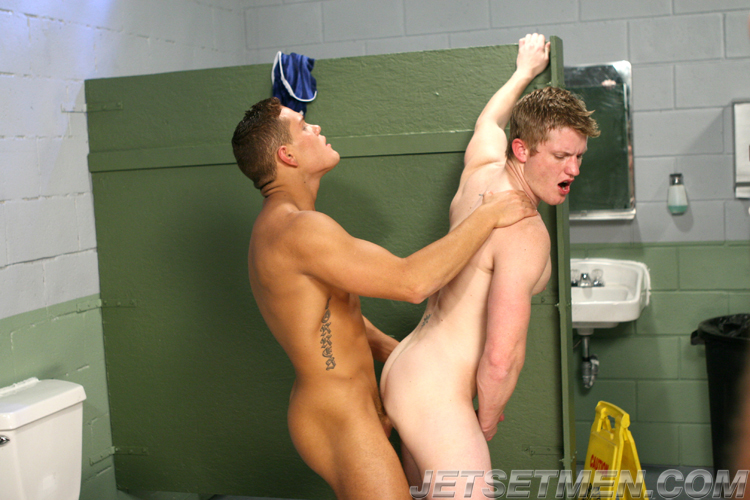 Jet Set Men presents a new Gay XXX Parody starring Mega Star Riley Price and newcomer Jason Goodman delivering incredible lead performances as two undercover cops posed to infiltrate a local high school. Along the way the pair of muscle bound sleuths accidentally trip on a new drug called HFS aka Horny Fucking Shit after scoring it off the local hunky drug dealer, Kris Jamison. Legendary XXX Porn Star, Ron Jeremy, makes a rare gay porn appearance offering advice to the duo before hard dicks break out and Goodman unleashes a pounding on Price in the boys room. Hung Chief, Steve Stiffer, and ripped bodied Captain, Robert Axel, are also players in the game of trying to uncover who is supplying Jamison's HFS. Chief Stiffer shows off his abilities to suck his own cock during an investigation with Doug Acre, a cute young student who has reached the final phase of HFS known as The Homo-Blast, a wild phase that induces intense cock cravings. Price and Goodman hit the high school prom where they run across another legs up situation that leads to Coach Bryce Star being taken down to the 21 Hump Street HQ for some deep undercover investigation.